ESG Showcase Liqid's
Sustainability
Why IT Must Prioritize Sustainability
See why industry analyst firm Enterprise Strategy Group (ESG) believes software-defined technologies like Liqid Matrix™ composable disaggregated infrastructure (CDI) have the potential to be a sustainable IT infrastructure answer for next-generation applications such as AI, ML, and HPC for core, cloud and edge deployments.
"A composable infrastructure provides significant improvements to performance, architectural optimization, hardware disaggregation issues, and importantly, footprint efficiency—basically eliminating the urge to overprovision."
-- Scott Sinclair, Senior Analyst, and Monya Keane, Senior Research Analyst, ESG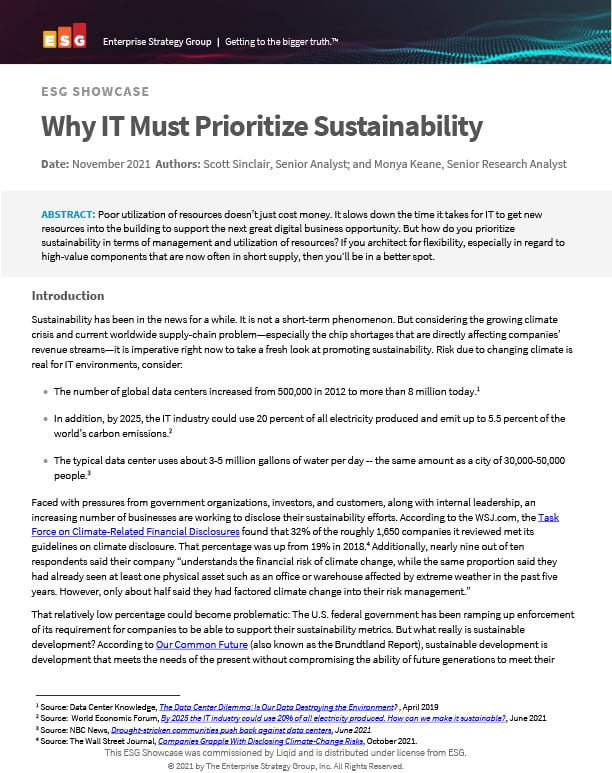 Download Why IT Must Prioritize Sustainability from ESG to find out:
Why the current state of data center waste has reached a tipping point.

What software-defined solutions can do to ease supply chain restrictions and prepare organizations to address both self and externally mandated sustainability goals.

How CDI solutions like Liqid Matrix™ eliminate the need for costly IT overprovisioning and reduces power and cooling requirements, enabling the most efficient and sustainable infrastructure design.
ESG says that "if you architect for flexibility, especially in regard to high-value components that are now often in short supply, then you'll be in a better spot." Find out why ESG analysts believe Liqid Matrix CDI software puts organizations in that "better spot" by delivering the efficiency, flexibility, and time to value to begin to address sustainability issues at the infrastructure level via software.

Let's Get Started
Speak with one of our product experts and learn how Liqid can drive greater agility and value from your datacenter.