ESG's Technical Validation of
Liqid CDI
Learn How Liqid Accelerates Time to Value, Increases Efficiency, and Improves Agility in the Datacenter
Analyst Report
Modern workloads like AI and HPC have organizations searching for better ways to deploy and scale in their on-prem data centers, with the ease of public cloud. In this report, ESG Senior Analyst, Alex Arcilla, uses hands-on testing to validate Liqid's Composable Disaggregated Infrastructure (CDI). The findings reveal composable's ability to accelerate the time to value for applications, while increasing efficiency and agility with cloud-like infrastructure delivery for on-prem data centers. Additionally, ESG clearly presents the business benefits associated with composing data center infrastructure with Liqid CDI.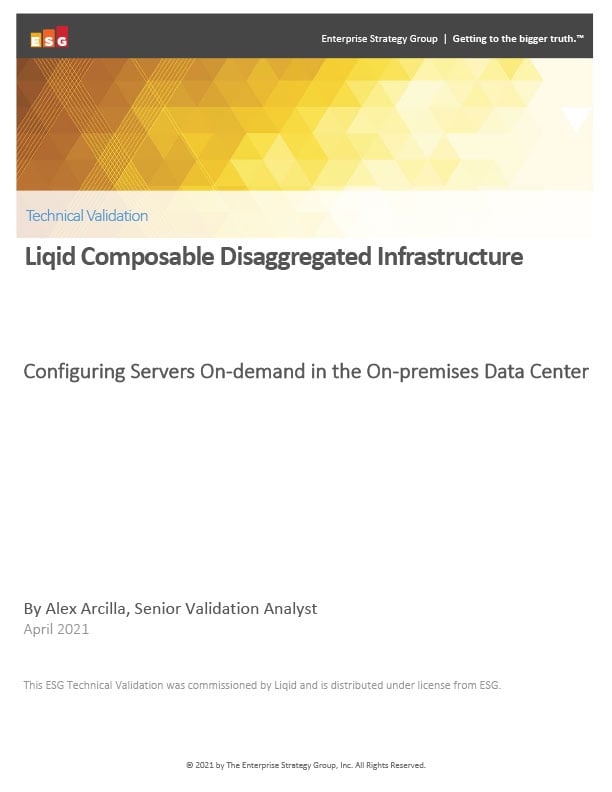 "The value of this solution goes beyond its ability to configure servers on-premises for any given workload in real time. By drastically shortening the IT provisioning cycle, organizations can immediately utilize data center resources and increase their return on investment (ROI) in less time."
-- Alex Arcilla, Senior Validation Analyst, ESG
Download now to read ESG's key findings on Liqid CDI, including:
Significantly shortened bare metal server provisioning process, enabling organizations to extract maximum business value from newly deployed servers in a minimal amount of time.

Capital expenditures savings resulting from significantly reduced need to overprovision resources, and compute, GPU, NVMe, and networking can be redeployed when idle, with zero-touch.

Ease of software-defined scalability improves organizations' ability to quickly adapt data center architecture to address business demands in real-time, ahead of competition, while minimizing operational expenses.

Let's Get Started
Speak with one of our product experts and learn how Liqid can drive greater agility and value from your datacenter.